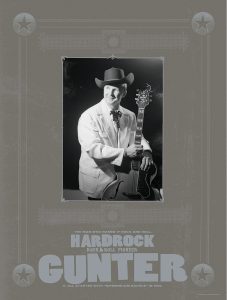 We did this limited edition print as a holiday present for our clients a number of years ago and we had Rock (as he's know to his friends) sign each one. Even though we included a bio and historical links of Hardrock Gunter, some people thought it was all made up. No, Hardrock Gunter was a real person. He was a major influencer on Rock and Roll in the early 50s and was on Sun Records before Elvis. If you were lucky enough to get one of the signed prints, hang on to it. It will only increase in value. Sorry to say, Rock passed away a few years ago.
(See also our video interview.)
About the poster itself: the photo was scanned from the original negative and was applied to a special colored heavyweight stock. The typography and design were printed with a metallic silver ink using an antique letterpress printing press.